From December to late April and even early May is the time of the Humpback Whales in Hawaii.  We were excited to be back on Maui, it is definitely one of our favorite places on the planet.
Humpback Whales Welcome
What a wonderful start to the always magical island of Maui, Hawaii.  We arrived in Maui around noon after a very pleasant flight from Los Angeles.  We left the Kahului airport heading south on the Kuihelani Highway heading to our destination in Kaanapali.  Just as we got to the furthest point south at a "scenic lookout" from the bluffs looking toward the island of Lanai,  we saw a Kohola (Humpback  whale) do a full breach in the distance.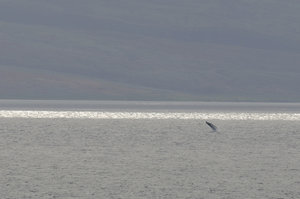 We pulled over to the lookout and watched 6 to 10 of these wonderful creatures playing in the waters between Maui, Lanai and Kaho'Olawe.
What a wonderful welcome to the island. We are looking forward to numerous whale-watching excursions and lots of scuba diving – chasing after Hammerhead sharks and other marine life.  But this time of year is always about the Humpback Whales.  They are some of natures truly most inspiring animals.
When we arrived in Ka'anapali, we started getting settled into the room, which faces the islands of Lanai and Molokai, and I had my camera out, as always, just taking in the sights when I saw another whale breach offshore.   A whale breached several times, photo above, making our welcome to the islands complete. The Humpback Whales had bid us a very wonderful welcome and I am looking forward to some extraordinary adventures over the next several weeks.  If you have not been to Hawaii during the season to see the Humpback Whales I would highly encourage you to come.  It is certainly a once in a life-time adventure.  I am both blessed and lucky that I get to do it almost every year.
Time for a great dinner and a little relaxation.
Mahalo nui loa to the great Kohola.
The pool is open….