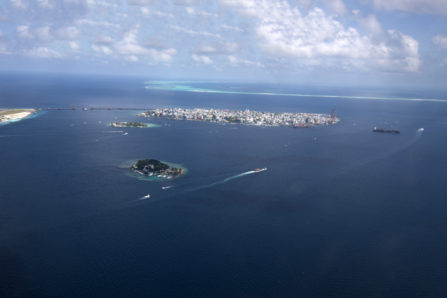 Paradise Found
The Republic of Maldives is one of the most unique geological places on our planet. Made up of 26 atolls and over 1,150 islands spread across approximately 35,000 sq. miles. It is one of the most dispersed countries on earth. It is also the lowest country on earth with more than 80 % of the country's land less than one meter above sea level. The Maldives lies close to the equator between latitudes 1°S and 8°N and longitudes 72° and 74°E.
Rising Ocean Temperatures
While these islands are one of the most beautiful places on earth, the Maldives has been challenged with high sea temperatures. In 1998, sea-temperature warming of as much as 5 °C (9.0 °F), due to a single El Niño phenomenon event, caused coral bleaching, killing almost two thirds of the nation's coral reefs.
To induce the regrowth of the reefs, scientists placed electrified cones anywhere from 20–60 feet (6.1–18.3 m) below the surface to provide a substrate for larval coral attachment. In 2004, scientists witnessed corals regenerating. Corals began to eject pink-orange eggs and sperm. The growth of these electrified corals was five times faster than untreated corals.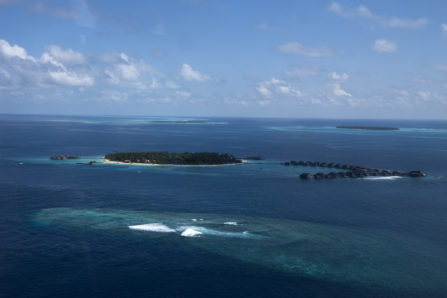 El Niño
Scientist Azeez Hakim stated: "before 1998, we never thought that this reef would die. We had always taken for granted that these animals would be there, that this reef would be there forever. El Niño gave us a wake-up call that these things are not going to be there forever. Not only this, they also act as a natural barrier against the tropical storms, floods and tsunamis. Seaweeds grow on the skeletons of dead coral."
Again, in 2016, the coral reefs of the Maldives experienced a severe bleaching incident. The surface water temperatures reached an all-time high in 2016, at 31 degrees Celsius in May 2016. Over 95% of coral around the islands died, and, even after six months, 100% of young coral transplants had died. While this event challenged the local marine life, a trip to the Maldives will not disappoint. The biodiversity on the reef is still incredible.
Maldives Fantasy Island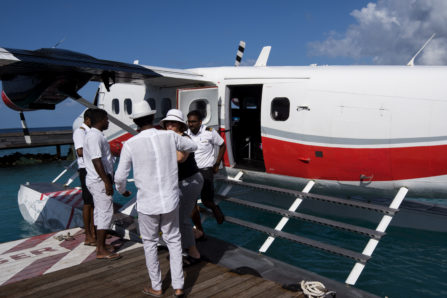 During our trip, we visited two separate islands in addition to Male. The first, Vommuli Island located in the Dhaalu Atoll, is approximately 69 km south of the capital Male and is reached via sea plane. The St Regis resort on the island opened in September of 2016 and had been open a little over 9 months when we arrived. The hotel occupies 100% of the island and houses about 200 staff in addition to hotel guests. When you arrive, you are greeted by some of the hotel staff lined up on the dock and waving.
Think Fantasy Island. da plane, da plane…..
Transport in the Maldives
Getting to the island requires a short sea plane ride from Male. The St. Regis will meet you at the international terminal and take you to a private lounge at the Sea Plane terminal to wait on your flight. You can get light hors D'oeuvres, snacks and drinks while you wait inside a small but nicely appointed lounge. The trip on the sea plane is only about 45 minutes and usually you make one stop to drop off other passengers at other resorts before you arrive at o the St Regis.
The St Regis Resort
This is probably one of the most amazing hotels in which we have stayed. Our spacious over water villa had floor to ceiling windows that looked out over the ocean. Everything in the room was new with lots of automation. We had a 20 X 50 foot (6 x 18 meters) or so deck which had an infinity pool and a staircase that led down to the ocean. I know it is difficult to suffer through these types of accommodations, but someone has to do it. 🙂
Like many resorts in the Maldives, we were assigned a personal butler to attend to our needs during our stay. This is where it gets a little creepy. The hotel will go online to look up guests, go to their Facebook page if it is accessible, or other social media sites to find out about the guests. One couple on their honeymoon told us that the hotel had printed copies of photos from their wedding that were posted on line and had them in their room when they arrived.
The staff on the island are also supposed to know the guests. They use Whatsapp to communicate information about guests to other staff members. So, when I went out for a dive one day and came back looking for my wife, the first staff member I came too told me where she was and what she was doing. This place was over the top with service.
Activities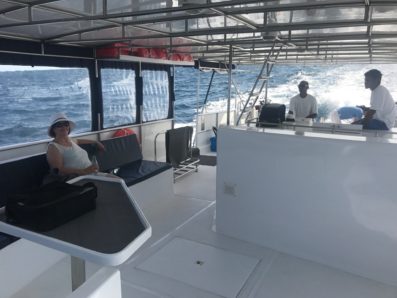 This hotel provides a wide range of amenities, including water sports, boat tours around the area, tennis, yoga, complete fitness center, great pool, and a beautiful library. At this type of property, your only options are the activities on the island. We came to dive in the Maldives so no problem, we were in the water every day. For others visiting these islands, you should consider carefully the activities available at the resort you choose. The diving here was a bit expensive, but the service was amazing.
Your Butler will arrange almost any activity you desire and virtually whenever you would like it. They even provided bicycles to our room, so we can ride to and from our over water villa back to the main part of the property.
The resort had only been open about 7 months when we arrived, and everything was new. The dive boat was great and each day we were typically the only divers on the boat. I think some people go to the Maldives for other reasons than diving……
Eating – Maldives Style
Food on the island was amazing. From the marvelous breakfast buffet at Alba, to the Orientale, great Asian cuisine, to the Whale Bar you will not be disappointed. Cargo and Crust offer casual beach front dining and you can always order room service. If you like wines there is a very interesting underground wine bar, Decanter where you can sample a variety of wines during an elegant bespoke five-course meal.
You can arrange a private dinner on the beach or on a roof top where the view of the stars is breath taking.
A thoroughly wonderful experience that I would love to do again.

The Pool is Open…..