Some of the most interesting types of shipwrecks for scuba diving are the purpose sunk ships that have been sunk to create artificial reefs. This is a wonderful way for older ships to provide not only benefit to divers but also to a variety of marine life.
Select from the list below to view my Photo galleries of selected wrecks and unusual dive sites.
California

Shipwreck
Rating
There have been and continue to be a large number of ships sunk to create artificial reefs. Wikipedia provides a list of some of those wrecks including the HMAS
Adelaide and the USS Kittiwake which were just sunk in 2011.
PADI and NAUI offer specialty wreck diving courses to train divers in "safety, hazards and cautions, special risks of overhead environments, entanglement, limited visibility, deep diving, equipment, location of wrecks, sources of information, search methods, underwater navigation, legal aspects, artifacts, treasure, salvage, archaeology, and much more".
While more recent reefed ships such as the USS Kittiwake in Grand Cayman have been extensively prepared for reefing and to also make entry, exploration and exiting the ship relatively safe, many older reefed ships should be approached cautiously and if the diver is not "wreck" certified penetration of the wreck should not be attempted.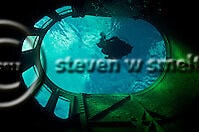 As an underwater photographer, shipwrecks hold a special fascination to me. To be able to capture the mystery and character of the ship in a photo is a special challenge. However, there are those great moments when you are able to get everything just right and the photo seems to come alive. The ability of a photo to transport the viewer into the image and experience the wonder of the moment is the real test of a truly amazing photo.
Ships sunk for wreck diving (from Wikipedia)
2011

USS Arthur W. Radford (DD-968)
Cape May, New Jersey
United States

2011

HMAS Adelaide
Avoca Beach, New South Wales
Australia

2011

USS Kittiwake
West Bay, Grand Cayman
Cayman Islands

2009

HMAS Canberra
Barwon Heads, Victoria
Australia

2009

USNS General Hoyt S. Vandenberg (T-AGM-10)
Key West, Florida
United States

2007

HMNZS Canterbury
Bay of Islands
New Zealand

2006

Xihwu Boeing 737
British Columbia
Canada

2005

HMNZS Wellington
Wellington
New Zealand

2005

HMAS Brisbane
Mooloolaba, Queensland
Australia

2004

HMS Scylla
Whitsand Bay, Cornwall
United Kingdom

2004

USS Oriskany
Florida
United States

2003

CS Charles L Brown
Sint Eustatius
Leeward Islands

2003

HMCS Nipigon
Quebec
Canada

2002

MV Dania
Mombasa
Kenya

2002

USS Spiegel Grove
Florida
United States

2002

HMAS Hobart
Yankalilla Bay, South Australia
Australia

2001

HMCS Cape Breton
British Columbia
Canada

2001

HMAS Perth
Albany, Western Australia
Australia

2000

HMCS Yukon
San Diego, California
United States

2000

Stanegarth
Stoney Cove
United Kingdom

2000

HMNZS Waikato
Tutukaka
New Zealand

1999

HMNZS Tui
Tutukaka Heads
New Zealand

1995

HMCS Saskatchewan
British Columbia
Canada

1997

HMAS Swan
Dunsborough, Western Australia
Australia

1996

HMCS Columbia
British Columbia
Canada

1996

MV Captain Keith Tibbetts (formerly Russian-built Frigate 356)
Cayman Brac
Cayman Islands

1996

Inganess Bay
British Virgin Islands

1995

HMCS Mackenzie
British Columbia
Canada

1992

HMCS Chaudière
British Columbia
Canada
1991–2001
Wreck Alley – The Marie L, The Pat and The Beata[10]
British Virgin Islands

1991

MV G.B. Church
British Columbia
Canada

1990

Fontao
Durban
South Africa

1990

T-Barge
Durban
South Africa
1987–2000
Wreck Alley
San Diego, California
United States

1987

USCGC Bibb
Florida
United States

1987

USCGC Duane
Florida
United States

1981

Doc Poulson

1980

Oro Verde
Cayman Islands

1970

Glen Strathallen (sunk to produce a diver training facility)
Plymouth
United Kingdom