Determining the best travel BCDs can be a bit of a challenge with so many to choose from on the market. I am a professional underwater photographer and my gear is very important to me and gets lots of wear and tear. I want gear that is durable over hundreds if not thousands of dives and as "travel" worthy as possible. There have been a number of great new lightweight or travel BCDs that have come out in the last several years and I have highlighted some of my favorites below.
When determining the best travel BCDs, I consider function first and then comfort. The Lightweight BCDs reviewed here provide a reasonable degree of function and along with great fit. The trade off on travel BCDs is usually limitations in storage pockets, lift (which is very important if you carry a lot of weight when you dive), security of your tank while you are diving, D-rings for optional gear and ride when you are on the surface of the water.
The BCDs listed below provide good form and function and a varying degree of optional features. Review the features of each and determine which best meets your needs. I think most divers will be happy with any of these BCDs and I would love to get your feedback as well.
The Pool is Open….
Best Travel BCDs
Aqua Lung Zuma BCD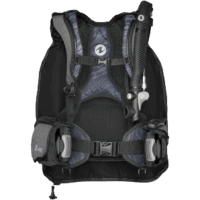 Details
Sizes: XS/S/M/L/XL
Material: Cordura 420
Rings: Alluminium (5)
Weight: 2.2Kg – 4.84Lbs
Lift: 35.2Lbs (XS); 35.2Lbs (S); 37.4Lbs (M); 37.4Lbs (L); 37.4Lbs (XL)
Pockets: 2 zip up pockets for accessories
Integrated Weights: No; 2 rear weight pockets
Return to Best Travel BCDs List

Zeagle Covert BCD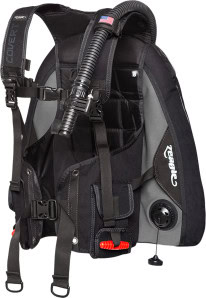 Roll it up and stuff it – that's the way to pack the Zeagle Covert, which rolls up like a newspaper and weighs just under 4 pounds. The new Covert BC is for those divers counting weight by the ounce and looking for uncompromising quality. Part of the popular and well known Ranger BC lineage, the Covert is for those looking for legendary "Ranger" toughness and durability in a compact travel BC. And at 3.9 lb, you no longer have to worry about travel weight restrictions. – See more at: https://www.zeagle.com/products-repository/bcds/products/covert#sthash.3S2WNuyx.dpuf
There are no cargo pockets and not many D-rings, but the Covert has 32 pounds of lift and easy-load pockets for 16 pounds of ditchable weights. In tests the Zeagle Covert proved to not only be a very lightweight BC but very stable and comfortable in the water.
Details
Sizes: XS – XL
Material: 1000 Denier Cordura nylon
Weight: Rings: 4 Plastic D-rings
Weight: 2.3 kg (XS), 2.4 kg (S), 2.5 kg (M), 2.6 kg (L), 2.8 kg (XL) – (5.06Lbs to 6.16Lbs)
Lift: 32 lbs / 14.2 kg
Pockets: none
Integrated Weights: Yes; 2 rear weight pockets
$274.95 Buy Now
Return to Best Travel BCDs List

Cressi Travelight BCD