Diving the USS Kittiwake shipwreck is a great experience.  In fact, if you have not been diving on the ship lately you are in for a real treat.
In October 2017 Tropical Storm Nate pitched the USS Kittwake on its side and up against the reef.
As a result, diving the USS Kittiwake shipwreck now provides an entirely different scuba diving experience.  Previously she rested squarely on her keel, much like she was still sailing on the surface of the sea.  However, she now looks and feels much more like a shipwreck.
Furthermore, navigation in the interior of the ship is more interesting.  Likewise, the feel of the ship has changed completely.  The angle of the decks, walls and ceilings challenge your orientation and gives you the sense of a "true shipwreck".  Coral and algae continue to grow, and more fishes can be seen in and around the ship.
If you are wreck certified, shaft alley and the lower decks offer great opportunities for exploration. With numerous entry and egress points diving the USS Kittiwake is safe and quite interesting. Furthermore, the ship provides a great opportunity for training on wreck diving and exploration.
Whether you are a recreational or beginning diver to an experienced wreck diver, diving the USS Kittiwake offers a wonderful scuba diving adventure.
Diving the USS Kittiwake – History
The government of Grand Cayman sank the USS Kittiwake just off Seven
Mile Beach in 2011.  Previously, the ship had a 54-year career in the US Navy as a submarine rescue ship.  This ship utilized scuba divers throughout her career in the US Navy.  Now, fittingly, she serves scuba divers in the Cayman Islands.
The USS Kittiwake Shipwreck has matured gracefully since she has been sunk. Though the logo is all but gone in the engine room, mirrors are gone or broken, and the upper part of the ship trimmed to prevent hazards on the surface, the wreck maintains an elegant grace.
While diving the USS Kittiwake you will find the lower shaft alley and other areas in the lower part of the ship are a bit more difficult to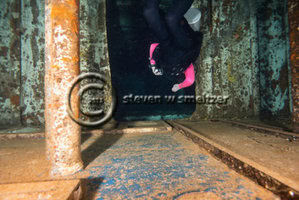 navigate.  However, this again makes the dive a bit more alluring and challenging.  Entry into the lower portions of the ship requires a shipwreck certification and should not be entered without the requisite training.
In conclusion, I hope you can go to Grand Cayman and take the opportunity for diving the USS Kittiwake.  It will be a memorable experience.
View my complete gallery of the USS Kittiwake prior to your dives to get the most from the experience.
#Thepoolisopen