A "Nemo" Fish, aka Clownfish or anemonefish can be found in tropical oceans around the globe. There are at least 30 known species living mostly in the shallow waters of  the Indian Ocean, the Red Sea, and the western Pacific.  Clownfish live in a symbiotic relationship with sea anemones.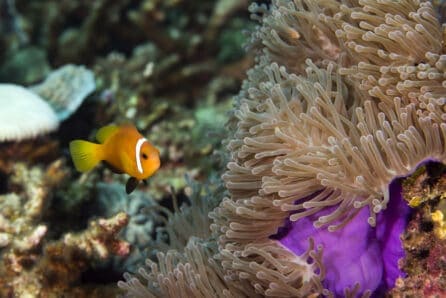 To form a bond with the anemone the clownfish first performs an exotic dance.  Gently touching the tentacles of the anemone with different parts of their body until they are acclimated to their host.  The clownfish has a layer of mucus on its scales that make it immune to the fish-eating anemone's sting.  In this relationship the anemone provides protection to the clownfish while the clownfish cleans and removes parasites from its host.  The clownfish also drives off predators that could potentially harm the anemone.  
Habits and Social Life
All clownfish begin life as males. They all have the ability to switch their sex but will only do so to become the dominant female of a group. These fish live in groups and are highly social. The dominant female is the largest fish in the group and the next largest fish is the dominant male. If the female dies, the dominant male will change to a female and the next largest male will become the dominant male.
Clownfish communicate by making clicking noises. It is thought that these sounds help maintain the social order for the community.
Mating and Offspring
All anemonefish are monogamous. Before spawning the male will prepare a nest by cleaning a spot on the reef. He will then court the female and chase her to the nest. It is then up to her to deposit her eggs, and then he will make a couple of passes over the eggs and release sperm to fertilize them.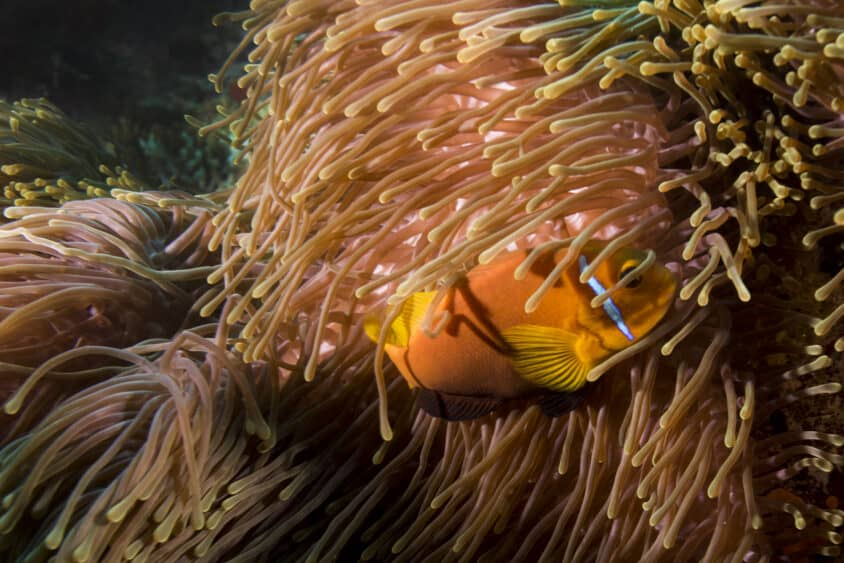 The female will lay 100 to 1,000 eggs which take about six to eight days to hatch. The larve hatch clear and simply float away. The spend about 10 days adrift. As they mature they will start to gain the color of their species and settle on the bottom of the reef and look for an anemone host.