A sunset in Grand Cayman can be extremely beautiful and on a sunset sail it can even be magic. There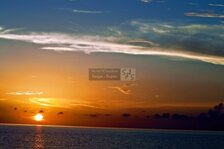 are a number of companies on which you can sail and enjoy a sunset in Grand Cayman.  These range from a pirate party boat, beware of the cannons, to the more laid back cruises from Red Sail Sports. The cruises leave out of a number of locations on the west side of the island. As a professional underwater photographer and landscape photographer these sunsets are to "kill for" if you will pardon the metaphor.
The combinations of clouds, sun light and waves in this part of the globe provide an almost unreal sunset in Grand Cayman.
In fact, you will find great sunsets almost every night and outrageous sunsets about every other night. I was watching a particularly brilliant sunset and saw what I term as "The Hand of God" gently laying the sun to rest on the ocean. So go, enjoy the views and let your imagination roam. I have listed some of the better cruise operators below to view a sunset in Grand Cayman.
Red Sail Sports
http://www.redsailcayman.com/modules/resqwest/display_activity_details/1398
Days: Monday and Wednesday
Price: Adults…$40.00 Children (3-11)…$20.00
Departure Location: This trip usually departs first from the beach at the Westin Resort and then the Grand Cayman Beach Suites, both on Seven Mile Beach. OR it may depart from Safe Haven Dock on the North Sound in the Seven Mile Beach area.
Jolly Roger
Pirate Adventure Cruise: http://www.jollyrogercayman.com/excursions/
Days: Monday, Wednesday and Friday
Price: Adults…$40.00 Children (3-12)…$25.00
Departure Location: The Jolly Roger cruises depart from the South Terminal located in George Town Harbor, next to Atlantis Submarine.
Sail Cayman Ltd
http://www.caymanislands.ky/vacation_planner/eBrochure.aspx?pid=37067
Days: Charter (5pm to 7pm)
Price: Adults…up to 10 ($350) up to 15 ($450)
Departure Location: Yacht Club dock C-31
Whichever cruise operator you choose to view a sunset in Grand Cayman you will certainly enjoy the relaxing trip. We typically stay along seven mile beach and use Red Sail Sports as they pick up from two hotels on the beach (Westin Resort and Grand Cayman Beach Suites). Also if you book your scuba diving before you arrive on the island you can get a package (from Red Sail Sports) that includes the sunset sail. Regardless of which group you choose, it is always a good idea to book off island if possible as a number of operators have special deals for booking in advance.
Sunset in Grand Cayman
After you boat picks up its guests for your cruise you will get a short safety briefing from the crew. The Red Sail boat is a really nice Catamaran with a nice web deck upon which to sit, some bench seats up front and some additional seating at the stern (back of the boat).
The crew will have hors d'oeuvres such as chicken wings and fruit along with rum punch and assorted drinks. The sun will be about 20 or 30 minutes from setting after your briefing and you can settle down and enjoy the views.
Your cruise to view sunset in Grand Cayman will go up along Seven Mile Beach and then you will turn around and sail back down the beach. You get great views of the sunset and then after sunset you get great views of the islands. It does rain fairly often in Grand Cayman, but I can not remember very many times when we have not gone out on a cruise that was scheduled. When you get "on island" check the weather and confirm your booking and then relax.
For the photographers on the cruise, if you will remember to underexpose your photos just a bit, you will get a lot better color contrasts and for those with higher end cameras you can also increase the saturation levels to further enhance the shot. But with sunsets like these you really don't need to do much. They are fantastic "straight" from the camera.
So on your next trip to the Caymans whether you are going for Scuba Diving, Underwater Photography or just to relax remember to splurge and take a Sunset Cruise, you will certainly enjoy it.
The pool is open…