Manta Ray diving can be an unforgettable experience.  These gentle giants are both graceful and magnificent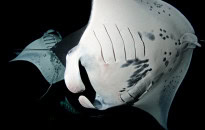 reminders of the wonders in our oceans.  Come dive with us off the coast of Hawaii and enjoy these magnificent creatures.
This Manta Ray video was shot off the coast of Kona in Hawaii. It was a marvelous dive. We saw 54 Manta Rays on two dives. 17 on a later afternoon dive and another 37 on the night dive. It was quite an experience. [jwplayer mediaid="3837″]
Manta Ray diving can be an awesome experience.  The magnificent Giant Oceanic Manta Ray, Manta birostris, is something special to experience.  The largest recorded Oceanic Manta Rays was more than 25 ft (7.6m) across from wing-tip to wing-tip and weighed over 5,300 pounds (2,400 kg).  Manta Rays have a short tail and no stinging spine.
Manta Rays are very acrobatic and on this dive you will be able to see them perform aerobatic flips and rolls as they glide through the water all about you.
Manta Rays were first described by Dondorff in 1798 and named Manta birostris. Other synonyms for Manta Rays include Cephalopterus vampyrus Mithchell 1824, Cepahalopterus manta Bancroft 1829, Manta americana Bancroft 1829, Ceratoptera johnii Müller & Henle 1841, Ceratoptera alfredi Krefft 1868, Brachioptilon hamiltoni Hamilton & Newman 1849, Raja manatia Bloch & Schneider 1801, Manta hamiltoni Hamilton & Newman 1849, and Manta alfredi Krefft 1868.
The Manta Ray is one of the largest fishes, and has been know to reach 9 m (29.5 ft) and weigh as much as 1,350 k (3,000 lb).  The Manta Ray's lifespan is thought to be about 20 years.  They are close relatives of sharks, which are also one of their main predators along with certain types of whales.  They are a close relative to the stingray, but they do not have a stinging tail.
View other underwater photography on my website or vist my post – Diving with Manta Rays