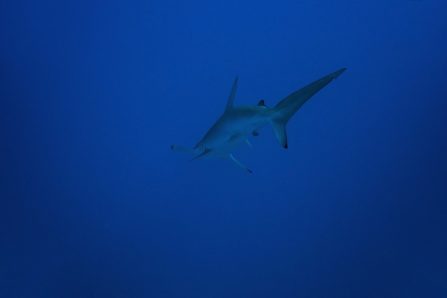 A south swell has been running for several days with the wind blowing briskly out of the north.  It is Friday morning and I am looking forward to scuba diving with the Hammerhead Shark.  The dive site for today is about an hour from Lahaina Harbor across the Pailolo Channel and on the northeastern end of Molokai.  This dive will take approximately five hours from the time we leave the harbor until our return.
I checked into the Lahaina Divers shop, whom I highly recommend, around 6:50 am. I have been diving with them in Maui for over 10 years.  They have great boats and a skilled and highly professional crew.  Lahaina Divers is the only dive operation that has a regular Hammerhead Shark dive to Molokai.  After checking in, I park my car and then head down to the boat slip.  After all of the divers are aboard and a short safety briefing from the crew we head for Molokai.  A
few of the divers on board have done this dive, including myself, many times.  However, for most on board this will be their fist dive on Molokai and the first time with Hammerhead sharks.
The Boat
The boat heads toward the dive site, staying close to the western shore of Maui, until we are almost directly across from the dive site.  The boat then makes a sharp turn to cross the channel.  The seas are running four to six feet with an occasional swell in excess of eight feet.  Some first timers on the boat get a bit nervous.  It takes about 25 to 30 minutes to cross over to Molokai and by that time a couple of divers on the boat that are sea sick.  This channel is one of the roughest in the Hawaiian islands.  Its name literally means "crazy fishermen".  Because if someone was going to go fishing across this channel they must be crazy.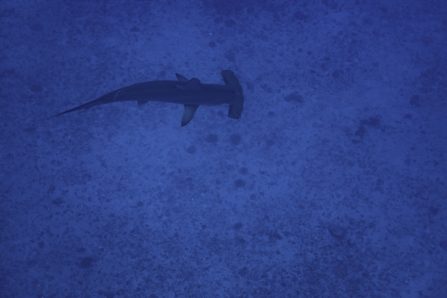 The captain of the boat gives us a 10 minute warning telling us it is time to put on our gear and get ready to enter the water.  We put on our wet suits, BC's, and fins while sitting in assigned stations on the boat.  The water is rough so we wait on the crew to help us stand up and move into position at the back of the boat.  But, we don't enter yet.  We wait for the captain to move the boat into position and give us the signal to enter the water.  The crew tells us "1 minute", "30 seconds", "captain divers are ready", then we wait for the captain.  The back of the boat swings round toward the islet, then the captain yells "dive, dive, dive".  Our group jumps almost in unison and we are all in the water within 15 seconds.
The Dive
The surface is choppy and after making sure all divers are OK, we rapidly begin our descent.  The water is light to medium blue for the first thirty to forty feet with rays of sunlight filtering around us.  Then the water begins to slowly darken as we descend on the dive site know as Fish Rain.  The reef is on our right and blue water is to the left.  The bottom slopes gently downward from about 40 feet to around 120 feet.  While I love the reef, I constantly look into the blue, hoping to see a Scalloped Hammerhead Shark.
Fish Rain is located on Mokuhooniki Rock and is one of the most bio-diverse dive sites on the planet.  The density of marine species, the health of the corals and the presence of pelagics make this a must dive. But, again we have come to see the Hammerhead Shark.
Advanced Dive
The dive starts out in the lee of the islet which is somewhat protected from the crazy waters of the Pailolo Channel.  While this site can on rare occasion be like glass, it most often has swells of 2 to 4 feet and can grow on occasion to well over 6 feet.  This is not a dive for the novice diver.  This is an advanced dive and anyone thinking about going should carefully consider their level of experience and confidence.
You enter the water quickly from a moving boat a quickly descend to around 50 feet.  After your dive group assembles you will slowly make you way around the Islet in an arc.  The dive is a drift dive and can be one of the most difficult dives you will every make due to the entry into and exit from the water.  Again this dive is not for the novice, but oh what a dive.  I have been on this site dozens and dozens of times yet it never ceases to amaze me.
Scalloped Hammerhead Shark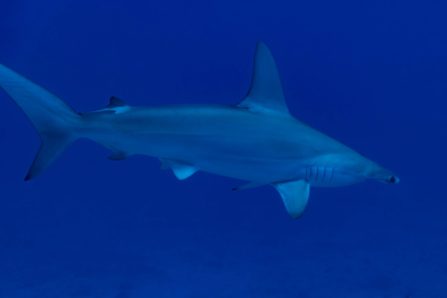 The Scalloped Hammerhead (Sphyrna lewini) is a species of hammerhead shark, and part of the family Sphyrnidae. This shark can be found over continental and insular shelves and in nearby deeper water. It is found in warm temperate and tropical waters, worldwide from 46°N to 36°S. It can be found down to depths over 500 m (1,600 ft), but is most often found above 25 m (82 ft).[10] During the day, they are more often found close to shore, and at night, they hunt further offshore. Adults are found alone, in pairs, or in small schools, while young sharks occur in larger schools.[1] see this Wikipedia article for more details on Scalloped Hammerhead Sharks
The Scalloped Hammerhead Shark in Hawaii has been known to reach lengths of up to 13 feet however 6-8 feet is typically the average.  Near Mokuhooniki Rock, the Scalloped Hammerheads tend to be adults of 6 to 8 feet with the occasional shark measuring well over 10 feet.  These sharks can be found from very near the surface to about 130 ft.  We see them very often cruising just off the bottom of the channel between Molokai and Mokuhooniki Rock, where the depths run typically 100 to 130 feet.  We will see them in groups of 1 to 3 but many times you can see groups of 5 to 10 and occasionally many more.  On my best dive here I have just under 50 Scalloped Hammerheads and have been literally surrounded as I am taking photographs.
Observing Scalloped Hammerhead Sharks
These are magnificent creatures. It is a wonderful experience to remain absolutely still in the water and observe these sharks as they interact with you.  I have have had many occasions where sharks have swam with me for 10 to 15 minutes.  They are curious and will come in close to you and your group if you will remember a few key things:
Keep your head on a swivel as you dive.  You want to be able to spot the sharks as soon as possible so your behavior does not cause them to move away from you
When you see the sharks and you see they are heading in the general direction of your group slow down immediately and/or stop and observe their behavior
If the sharks are moving away from your group keep swimming toward them and keep looking all around.  There are more than likely other sharks near by.
Stay at 40 to 60 feet when you are looking for the sharks and then drop down to their depth when you see them.  This will conserve air and reduce the danger of nitrogen narcosis
When the sharks are getting close to you stay still and let them swim to you.  I was getting ready for a wonderful encounter with a 12+foot female Scalloped Hammerhead Shark when a person in our dive group start swimming rapidly down towards the shark to get their "go-pro" shot.  The shark simply turned away and the diver probably did not get a good shot and the rest of the dive group was denied the experience of interacting with a large hammerhead.
The Pool Is Open
As I have said before, if not my very favorite, definitely in my top five.  This site has an amazing reef, tremendous bio-diversity, a very healthy reef system, does not see many divers and it has ….. Scalloped Hammerhead Sharks.
If you are an advanced diver, this site is definitely for you.  Maholo nui loa and safe diving.
The pool is open…..