There are a number of average to good dive sites that can be accessed from the shore on the south side of Maui.  Five Caves, also know as Five Graves and Nahuna Point is one of the better sites to dive on the south side of Maui, but I still prefer Mala Pier.  However if the drive is to far to Lahaina this is certainly worth checking out.
Five Caves Rating: 2.56 out of 5
Visibility – Moderate although tends to get hazy later in the day

Access – Moderate; boat or shore access near Makena Landing

Current – variable to minimal; can have a strong surge making the caves dangerous

Depth to 50 ft / 15 m; most of the dive is 30 feet or less

Reef health Hard / Soft Corals – Moderate
Marine species variety – Moderate
Pelagics / Mammals / Turtles / Rays – minimal typically 1 to 3 sightings on a dive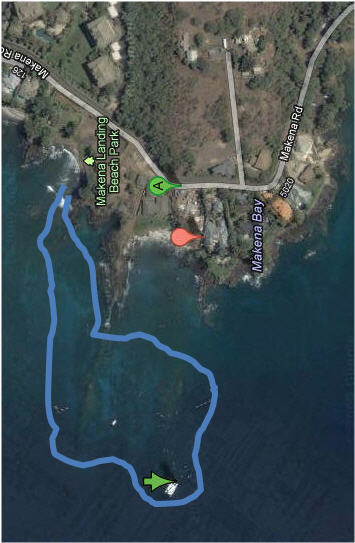 Five Caves can be a good dive as either a second dive or a shore dive. I would recommend it earlier in the day as the visibility tends to drop later into the day.  You will typically find a variety of Green Sea Turtles and Hawksbill Turtles on the site and also White-tip Reef Sharks in one or more of the caves.   The site is well regarded by local divers and is also used by some dive operators operating out of the Kihei Boat Ramp as a second dive site when diving on Molokini Crater.  Shore divers can access this scuba diving site from a couple of different directions.  The coordinates on Google Maps is +20° 39′ 20.29″, -156° 26′ 44.36″.  If you zoom in you will see a dive or snorkeling boat anchored on the site.  You can enter either on the north or south side of Nahuna Point.  You will find most of the "caves" on the northern entry as you swim out.  If you look at the Google Maps satellite view you will see underwater coral and lava formation extending outward from shore.  The caves are found in these structures.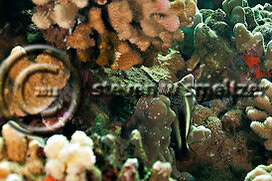 Five Caves Overview
You can find a variety of marine life at Five Caves from a variety of Moray Eels to the ever present Butterfly fishes and Hawkfishes.
The visibility can vary significantly so check the conditions before you go to improve the overall chances of a good dive.  At the low end visibility can get into the 15 to 20 foot range with significant particulates or "back scatter" in the water and if you are trying for underwater photographs I would suggest planning on shooting macro or near macro as wider angel shots can be a bit tricky with so much "junk" in the water.
If you are shooting wider angle make sure you keep your strobes aimed out as far as possible and keep the shutter speed high.  Even in lower visibility conditions I have gotten some very good shots of sea turtles, moray eels, sharks and more.  You just have to plan out your shot a bit before you take it.  I have found several Zebra Morays which make nice shots but tend to be a bit timid.  So approach slowly and take your time.
Check out reviews of other dive sites and shipwreck sites  on my website at www.stevenwsmeltzer.com or visit my blog blog.stevenwsmeltzer.com or follow me on Twitter @ images2inspire.