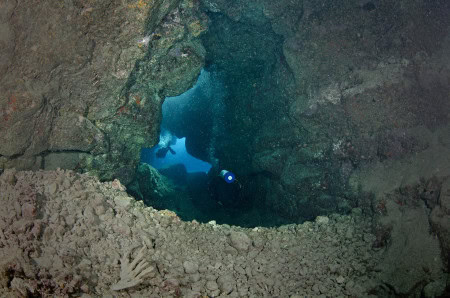 Suckem Up Cavern is a very reasonable dive site. It has a good variety of marine life and if the surge is not to strong you can explore some of the lava tubes near the surface from whence this site gets its name. There is a lava tube that if you swim inside towards the end their is an opening that can literally "suck you up" through the opening and deposit you closer to the surface. If the surge is strong you should not attempt this "ride" but otherwise it can be interesting.
Suckem Up Cavern Rating: 3.27 out of 5
Visibility – Good; although surge can can create a good bit of turbidity / haze

Access – Easy, 15 minutes from Honokohau Marina & Small Boat Harbor, on Kona coast

Current – variable, surge can be strong
Depth to 60 ft / 18 m

Reef health Hard / Soft Corals – Good
Marine species variety – Good
Pelagics / Mammals / Turtles / Rays – no sightings to minimal

The hard corals are in very good shape around the site and on this side of the island in
general. There is usually a good current that flows regularly along the coast providing plenty of food for the corals and there is usually an abundance of light since this is the dry side of the island. You can find a good variety of marine life on the site. There are many types of butterflyfhishes including the Racoon butterflyfish, the Common Longnose Butterflyfish, the Threadfin Butterflyfish and many more. You can also find Devil Scorpionfish, but you must look closely as they are well camouflaged amongst the hard corals.
Suckem Up Cavern Overview
You can also find Peacock Flounders, Leaf Scorpions, Giant Porcupinefish and others. Make sure you take your time as you swim across the hard corals and around the lava tubes. Make sure to look up on the ceilings as you can many times find the Giant Porcupinefish waiting patiently for their next meal
Suckem Up Cavern tends to be fairly shallow for a good bit of the dive which can expand your bottom time to well over an hour. Given its easy access and relaxed conditions this is a dive for everyone. If you are into underwater photography you can choose either wide angle or macro. Just remember if the surge is strong the turbidity can be a bit tough for good photographs especially around the lava tubes.

As in all dives I recommend going slowly and take time to appreciate the site. Read other dive site reviews on my blog and see other underwater photographs on my website and follow me on Twitter @ images2inspire. The pool is open…