It is that time of year……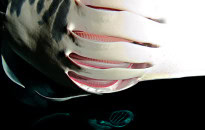 DEMA 2014 is just around the corner in Las Vegas from Nov. 19 – 22. The Ocean Artist Society will have a large dedicated space for displaying artwork from various members and Wyland is planning to exhibiting the entire permanent fine art collection featuring many of the 262 current members. It is an amazing collection of paintings, photographs, sculptures, and other works of art that reflect our members' vision and commitment to the conservation of our ocean.
According to organizers, the art show will be the largest, most comprehensive gathering of works from top ocean artists in DEMA history. "The idea behind the Ocean Artist Society began at DEMA," says renowned artist and conservationist Wyland, who founded the OAS with Guy Harvey and Bob Talbot in 2003. "This showcase at DEMA, sponsored by SCUBAPRO, will put a spotlight on the very best work from the world's most gifted artists."
"Gill Rakers- Verge of Extinction" will be one of the photographs on display from the Steven W Smeltzer collection, so if you are in Las Vegas at the DEMA show please take the time to review this amazing collection.