The Green Sea Turtle is a wonderful, graceful creature.  They capture the imagination especially when seen gracefully swimming underwater or as young hatch-lings racing for the relative safety of the sea.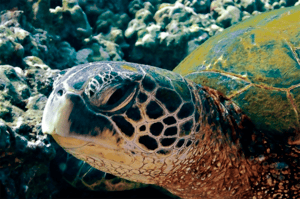 The Green Sea Turtle inhabits tropical and subtropical coastal waters around the world.  It is a large turtle and may grow to over 300 kg (700 pounds).  These marvelous creatures can also live for up to 80 years.
The Green Sea Turtle is named for the greenish color of its skin. Its shell can be a dull brown to an olive green tint depending upon its habitat.  There are generally though to be two types of green turtles including the Atlantic green sea turtle, normally found off the shores of Europe and North America, and the Eastern Pacific green sea turtle, which has been found in coastal waters from Alaska to Chile.
Green Sea Turtle
Green Sea Turtle,
Unlike most sea turtles, adult green sea turtles are herbivorous, feeding on sea grasses and algae. Juvenile green turtles, however, will also eat invertebrates like crabs, jellyfish, and sponges.
Green Sea turtles have lengthy migrations from feeding sites to their individual nesting grounds, normally on sandy beaches. Mating typically occurs every two to four years in shallow waters close to the shore. To create a  nest, females leave the sea and choose an area, often on the same beach where they were born to lay their eggs. They dig a pit in the sand with their flippers.  The nest pit may contain as many as 200 eggs.  After the eggs are placed into the pit it is covered with sand and the turtle returns to the sea.  It takes approximately two months for the eggs to hatch.  Immediately after hatching is the most dangerous time of a green turtle's life.  The short but difficult journey from the nest to the nest to sea requires the young turtles to evade multiple predators, including crabs and flocks of gulls.